UVC format
Support VR180 6K50 resolution.
Picture Quality Settings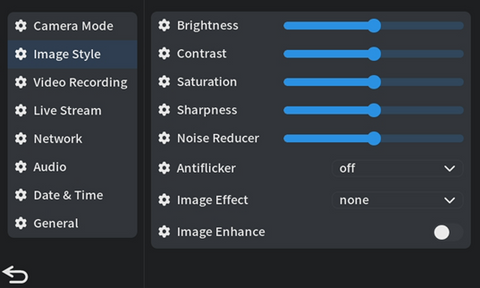 Power on the camera -> click the "Settings" icon in the bottom right of the screen or press the "Menu/Ok" button -> enter the menu -> click "Image" -> Adjust settings for photo parameters such as "Brightness," "Contrast," "Saturation," "Sharpness," "3D Noise Reduction," and any other relevant options.
Professional parameter settings: Adjust professional settings such as "White Balance," "ISO," "Exposure Value (EV)," and other professional parameters using the directional keys besides the screen of the camera. The preview effect will be visible on the PC terminal after making these adjustments.

 (② for Up/ISO, ③ for Right/EV (Exposure Value), ⑥ for Left/White Balance, and ⑦ for Down/Exposure Settings)
Function Preview
Power on your camera -> click the "Settings" icon or press the "Menu/Ok" button at the bottom right of the screen -> enter the menu -> click "Mode" -> in the right menu, select "UVC" from the drop-down menu for "Camera Mode."-> choose the default VR180 6K50 resolution from the drop-down menu for "Resolution."-> press the camera's "Back" button-> connect the USB 2.0 cable to the PC
Setting Up Live Streaming Software on PC (Taking OBS as an Example): Open OBS -> Source -> Addsource"+" -> Video capture device->New ->Select "VR180 Camera" from the device list ->For Resolution/Frame Rate, choose "Custom" -> Set the resolution to "6144x3072" -> Select "Match output frame rate (auto-select: 50)" for FPS.
Notes
The UVC function can only be used through the middle (the second) Type-C interface among the camera's three Type-C interfaces.
The UVC function exclusively supports H.264 encoding.
Avoid switching the camera mode when the UVC function is active.
The iOS system does not support H.264 under UVC, making it incompatible with Apple systems.
To ensure high-quality, high-resolution, and high-bitrate 3D video under the UVC function, consider the following suggestions:
Check for hardware decoding in your PC software.
Ensure your PC has a graphics card with 8K decoding capabilities.
Use a high-quality USB 2.0 connection, and keep the data cable as short as possible.